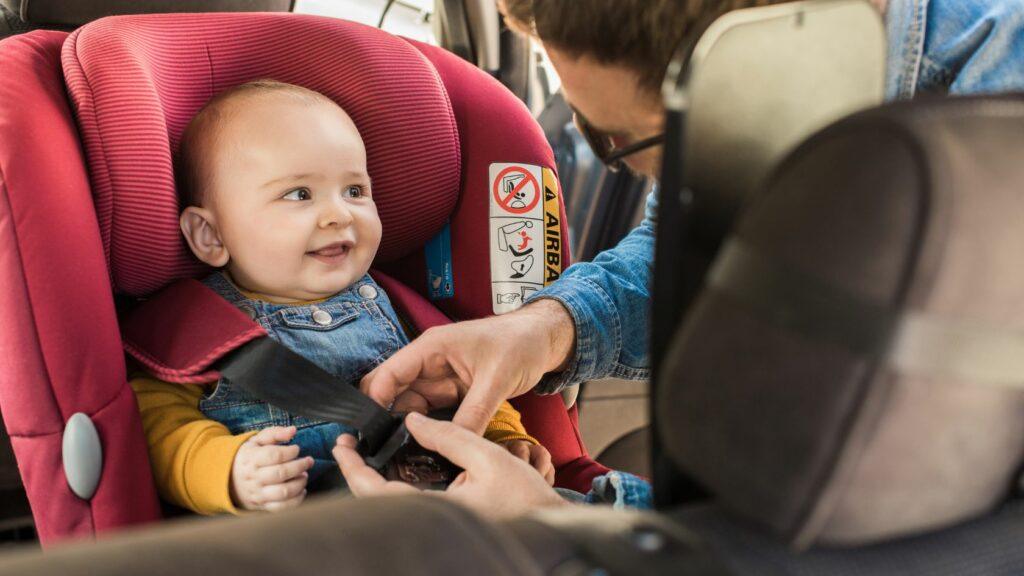 Ensuring your newborn's safety in the car is paramount, but it takes time for them to sit independently. That's where baby car seats come into play. If you're a car owner, investing in this essential baby gear is non-negotiable.
Referred to as infant car seats, child seats, or even baby strollers, these specialized seats are engineered to provide optimum comfort and safety, allowing your baby to ride securely during those early years.
In this comprehensive guide, we will cover everything you need to know about choosing, installing, and maintaining the best baby car seat for your little one.
From understanding the importance of baby car seats to safety guidelines, types, installation methods, and expert tips, this guide aims to provide you with all the information you need to make an informed decision.
Why Baby Car Seats Are Crucial?
Baby car seats are designed to protect infants and toddlers weighing between 25 and 40 pounds during car journeys. They significantly reduce the risk of injury in the event of a collision.
According to studies, using a properly installed car seat can reduce the risk of fatal injury by up to 71% for infants and 54% for toddlers.
These specialized seats are ingeniously designed to face the rear of the car, a practice firmly endorsed by pediatric experts.
For newborns, the rear-facing position is paramount, ensuring optimal protection until they attain specific height and weight milestones.
Crucially, these baby car seats are seamlessly affixed to a secure base, guaranteeing steadfast stability during every journey.
This strategic integration enhances the safety quotient significantly, providing parents with the peace of mind they rightfully deserve.
Best Baby Car Seats
Finding a car seat for your baby that meets all the requirements from a plethora of products could become a daunting task.
This is why we have done the research and selected the best 3 baby car seats to save you time and effort:
As an Amazon Associate, we may earn a small commission if you purchase any product by clicking the link without any additional cost to you.
Chicco OneFit ClearTex All-in-One, Rear-Facing Seat
The Chicco One-Fit ClearTex All-in-One Car Seat is a versatile solution catering to children from 5 to 120 pounds. Its seamless transition from rear-facing to a forward-facing harness and then to a booster seat eliminates the hassle of buying multiple car seats.
This car seat prioritizes safety, meeting or exceeding federal standards. It features a sturdy frame, side-impact protection, and a 5-point harness system, ensuring your child's security in any situation. It is one of the baby car seat brands that offer non-toxic flame retardant-free products with low emissions.
Installing the Chicco One-Fit is a breeze, offering LATCH or seat belt options, both clearly explained in the manual. The no-rethread harness system adjusts effortlessly as your child grows, ensuring a perfect fit.
Plush padding, multiple recline positions, and breathable fabric create a comfortable environment. Your child will enjoy car rides, and you'll appreciate the convenience of a machine-washable seat cover.
Designed with practicality in mind, this car seat is compact, however moving or transferring the seat could be a problem due to its bulkiness. Its 10-year lifespan means it can be used for multiple children without compromising safety.
Though Chicco One-Fit is compatible with most vehicles, it is always advisable to check the car seat compatibility guide or consult with the manufacturer to ensure a perfect fit in your specific vehicle.
Pros
The all-in-one design eliminates the need for multiple car seats
Meets or exceeds all federal safety standards
Easy installation with LATCH or seat belt
10-year lifespan for long-term use
Cons
It may not fit in all vehicles
Can be a bit bulky
Britax Boulevard Clicktight Convertible Car Seat
The Britax Boulevard ClickTight Convertible Car Seat redefines child safety, offering a premium experience for parents seeking the utmost security and convenience.
Designed as a convertible car seat, it accommodates infants from 5 to 40 pounds in rear-facing mode and 20 to 65 pounds in forward-facing mode, ensuring extended use without the need for multiple seats.
Britax Boulevard ClickTight incorporates advanced safety features. The innovative ClickTight Installation System simplifies setup, guaranteeing a secure fit. Additionally, SafeCell Impact Protection, side impact safeguards, and a 5-point harness system with no-rethread design work cohesively to safeguard your child comprehensively.
Prioritizing your child's comfort, this car seat features plush padding, multiple recline positions, and breathable fabric. These elements create a cozy and well-ventilated environment, enhancing your child's riding experience. Additionally, there are no flame retardant chemicals in the fabric which makes it naturally non-toxic.
In terms of convenience, the machine-washable seat cover ensures easy cleaning, while the easy-to-adjust headrest and harness simplify customization. One drawback is the weight of this seat. It's pretty bulky and heavy and constant transfers or movement may not be convenient.
In summary, the Britax Boulevard ClickTight Convertible Car Seat combines advanced safety features, superior comfort, and user-friendly design, offering exceptional value for parents who prioritize their child's safety and well-being during every car journey.
Pros
Travel-friendly car seat
Advanced safety features for comprehensive protection
14 positions headrest adjustments
Easy hand wash and machine cleaning
Cons
Higher price point compared to some other car seats
Its heavier structure makes its movement cumbersome
The UPPAbaby MESA MAX – Jake (Charcoal) is a premium infant car seat designed for children from 4 to 35 pounds and up to 32 inches in height. It is designed for rear-facing use only, providing optimal protection for infants and young toddlers.
The MESA MAX excels in several advanced safety features, including:
SMARTSecure System: This innovative system features visual and audible indicators that confirm a secure and accurate installation, minimizing the risk of errors.
Anti-Rebound Panel: The anti-rebound panel helps to reduce rebound movement in the event of a collision, providing additional protection for your child.
Load Leg: The load leg provides extra stability and reduces forward movement in a crash, enhancing overall safety.
5-point Harness System: The 5-point harness secures your child safely and features a no-rethread design for easy adjustments.
When it comes to installation, this seat offers multiple installation options for flexibility and convenience including the latch system with dedicated anchors, and seat belts.
The MESA MAX features a no-rethread harness with an infinite adjustment system. This means you can easily adjust the harness height as your child grows without the hassle of rethreading straps. The harness also includes a quick-release buckle for easy in and out.
The seat also features plush padding, and infant inlay for a comfortable and supportive seating experience.
The fabric contains non-toxic chemicals and is designed to promote airflow and prevent overheating, keeping your child cool and comfortable.
The seat cover is removable and machine-washable for easy cleaning and the recline can be adjusted with one hand.
It is compatible with UPPAbaby strollers, creating a seamless travel system for easy transitions from car to stroller.
Pros
User-friendly design with easy installation and adjustments
Convenient features like machine-washable seat cover and one-hand recline adjustment
Compatible with UPPAbaby strollers for a seamless travel system
Stylish and modern aesthetics
Buyer's Guide: Factors to consider while choosing baby car seats
When selecting a car seat for your child, several crucial factors come into play to ensure both safety and convenience.
Types of Car Seats
There are four primary types of car seats tailored to different age groups and weights.
Infant Rear-Facing Car Seats – Designed for newborns, these seats support 4-40 pounds. They come with a detachable base for easy use as a carrier.
Convertible Car Seats – These seats transition from rear to forward-facing. Rear-facing, they accommodate up to 50 pounds, and forward-facing, up to 65 pounds.
Booster Seats – When a child outgrows a forward-facing harness seat, boosters come into play. They allow the seat belt to fit the child correctly, akin to an adult.
All-in-One Car Seats – These versatile seats work in rear-facing, forward-facing, and booster modes. Rear-facing, they support 4-50 pounds; forward-facing, 20-65 pounds; and in booster mode, 30-120 pounds.
Vehicle Compatibility
Not all vehicles are compatible with every car seat, especially infant ones. Check for a latch system in your car; it simplifies installation by replacing vehicle belts.
In terms of size, ensure the seat fits well in your vehicle, especially if you have a smaller car.
Also, consider if you need to fit multiple car seats in your vehicle and choose seats that can be installed together securely.
Dimensions
Measuring your car's interior space is vital. Ensuring the car seat fits snugly inside guarantees your child's safety and comfort during travel.
Lifestyle Considerations
Consider your lifestyle when choosing a car seat. If you frequently switch between cars, opt for a lightweight seat that's easy to install, providing flexibility and convenience.
Monitoring Baby's Size
While age is a straightforward indicator, keeping track of your child's weight and height is essential. These details inform you when it's time to upgrade your child's car seat, ensuring they are always secure on the road.
Safety Standards
It's crucial to understand the safety guidelines and regulations associated with baby car seats.
This includes information on weight and height requirements, rear-facing vs. forward-facing seats, and the importance of proper installation. Always check local laws and regulations to ensure compliance.
Ensure the seat meets safety standards set by regulatory authorities in your country. Look for labels like FMVSS 213 in the United States or ECE R44/04 in Europe.
Installation
Choose a seat that is easy to install and fits securely in your car. Some seats come with latch systems for easier installation.
Consider having the seat professionally installed to ensure it's done correctly.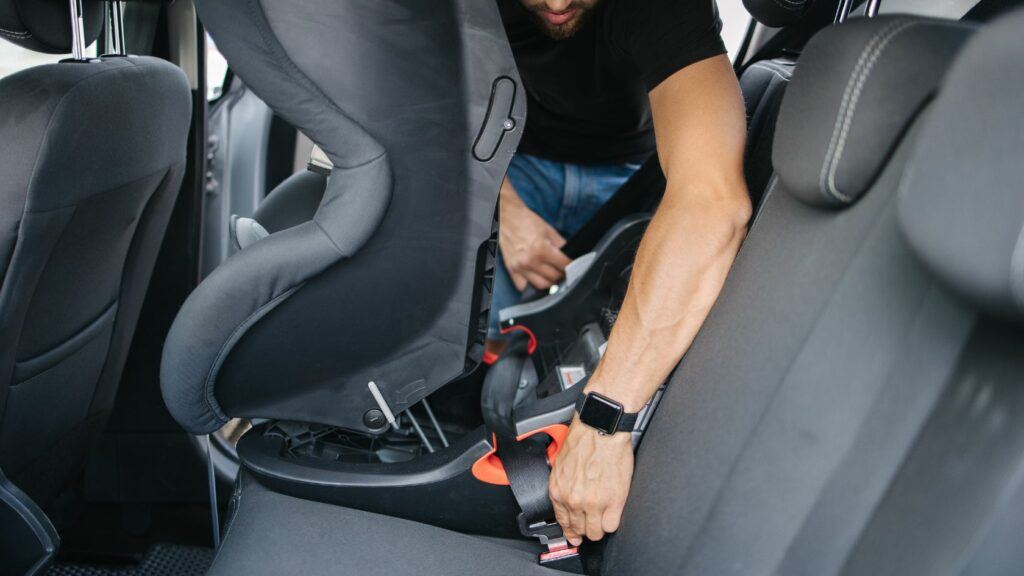 Harness System
5-Point Harness offers better security as it secures the child at the shoulders, hips, and between the legs.
Look for seats with adjustable harness heights and crotch strap positions to accommodate your growing child.
Comfort and Convenience
A well-padded seat provides comfort for your child during long rides. Seats with removable covers are easier to clean.
This is especially important for rear-facing seats to support a newborn's head and neck.
Expiration Date
Car seats have an expiration date. Do not use a seat that has passed its expiration date, as it may not provide adequate protection in case of an accident.
Budget
While safety is paramount, consider your budget. There are quality seats available at various price points.
The Advantages of Baby Car Seats
Child Safety – The paramount benefit of installing a baby car seat is the assurance of your child's safety. Statistics indicate a significant 54% decrease in injury or fatality rates when children travel in these specialized seats.
Enhanced Control – These seats are ingeniously crafted to ensure self-restraint. In the unfortunate event of an accident, the seat's dynamic curves, folds, and protective straps prevent falls and maintain the child's position securely within the seat.
Optimal Comfort – Designed with a child's fragility in mind, these seats prioritize comfort. Foam padding, fabric covers, harnesses, and buckles provide additional cushioning, catering to the delicate physical structure of your little one.
Stress-free Driving – With a baby car seat, you can drive without constant worry about your child's safety and movement. Especially during family trips with small children, these seats offer peace of mind, making your journeys stress-free.
Adherence to Regulations – Many countries, including the US, UK, and Europe, mandate child seats for infants and small children up to a specific age. Having a baby car seat in your vehicle not only ensures safety but also saves you from hefty fines and penalties, ensuring compliance with regulatory standards.
Installing a Baby Car Seat Correctly
Installing a baby car seat correctly is vital for your child's safety during car journeys. Here's a step-by-step guide to ensure proper installation:
Read the Manual: Start by carefully reading both your car's manual and the baby car seat manual. Understanding the specific instructions for your vehicle and car seat model is crucial.
Positioning: Rear-facing seats should be placed in the back seat of the car, preferably in the center. Forward-facing seats and boosters can also be in the back seat but can be positioned behind the driver or passenger seat.
Secure Installation: Use either the vehicle's seat belt or the LATCH (Lower Anchors and Tethers for Children) system to secure the car seat. Choose one method, not both, to avoid conflicting installations.
Rear-Facing Seats: For rear-facing seats, ensure the base of the car seat is at the correct recline angle. Use a level indicator if your seat has one. The harness straps should be at or below the baby's shoulders. Secure the seat tightly so it doesn't move more than an inch from side to side.
Forward-Facing Seats: When using a forward-facing seat, tether it to the designated anchor in your car. The harness straps should be at or above the child's shoulders. Tighten the harness to ensure a snug fit. The car seat should not move more than an inch in any direction.
Booster Seats: Use a booster seat once your child outgrows the forward-facing seat. The seat belt should lie flat across your child's chest and lap, not across the neck or stomach. The booster should elevate your child so that the seat belt fits them properly.
Check for Stability: After installation, give the car seat a firm shake at the base. It should not move more than an inch in any direction. If it does, readjust and secure it again.
Here's a small video showing how to install a car baby seat:
Maintenance Tips for Baby Car Seats
To ensure the longevity and safety of the baby car seat here are some essential tips
Start by thoroughly reading the manufacturer's manual. It contains specific instructions on cleaning, maintenance, and usage, tailored to your seat model.
Regularly clean the car seat cover and harness straps following the manufacturer's guidelines. Use a mild detergent and water to clean fabric parts. Avoid using harsh chemicals, as they might damage the materials.
Prolonged exposure to sunlight can weaken the car seat materials. Park your vehicle in the shade or use a car seat cover to protect it from direct sunlight when the seat is not in use.
Routinely inspect the car seat for any signs of wear, tear, or damage. Ensure the harness straps, buckles, and padding are intact and functioning correctly.
When not in use, store the car seat in a dry, cool place. Avoid leaving it in the car for extended periods, especially during hot weather, as extreme temperatures can affect the seat's integrity.
Avoid using aftermarket accessories, like seat covers or additional padding, unless approved by the car seat manufacturer. These products can interfere with the seat's safety features.
Double-check the installation periodically to ensure the seat is securely fastened. Even if it hasn't been removed, the seat's stability can change over time due to regular use.
Be gentle when handling the car seat. Avoid dropping or roughly placing it, as this can cause internal damage that might not be visible but can compromise safety.
Most car seats have an expiration date stamped on them. It's crucial to replace the seat when it reaches the end of its lifespan, as older seats might not provide adequate protection in case of an accident.
When should I transition my child from a rear-facing seat to a forward-facing seat?
The American Academy of Pediatrics recommends keeping your child in a rear-facing seat until they reach the maximum weight or height limit allowed by the car seat manufacturer.
How tight should the harness straps be on my child?
The harness straps should be snug enough that you cannot pinch any excess webbing at the child's shoulder. Always refer to the car seat manual for specific instructions.
How much does a baby car seat cost?
The actual cost of a baby car seat may vary depending on the brand, size, and type however the average price range may start from $100 and can go up to $500 or more.
Can you buy a used baby car seat?
No. You should never buy a used baby car seat as it can have some existing defects or faults that may not be detected directly and can compromise your child's safety.
Conclusion
Investing in a baby car seat is a wise decision, prioritizing both your child's safety and comfort.
To prolong its lifespan, it's advised to clean it through gentle hand washing. After installation, a crucial step is to conduct a thorough test to ensure it remains securely in place without any side-to-side shifting.
Our buyer's guide guarantees that any product you choose will be a worthwhile purchase.
These car seats offer not just comfort and coziness for your child, but also provide you with unparalleled peace of mind, knowing your little one is protected on every journey.