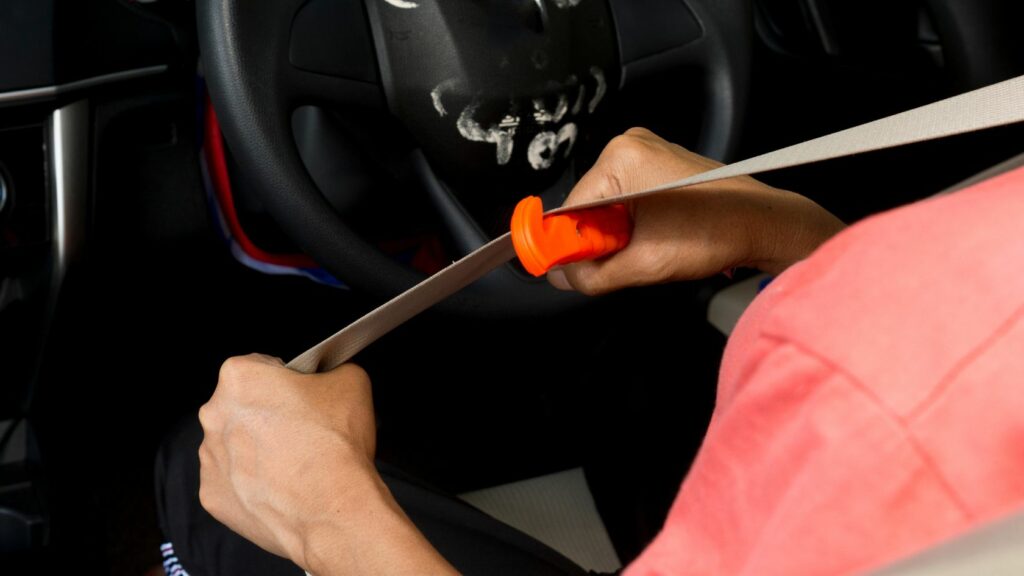 Car emergency escape tool is often underestimated because of their rare usage. The purpose of a car emergency escape tool is to help a vehicle owner come out from a difficult situation.
While it may be a tool that you hope never to use, its importance cannot be devalued. Keeping a car emergency escape tool can be the difference between life and death in extreme conditions.
To help you understand and learn more about an emergency escape tool this post will provide insights on the importance/benefits along with a buyer's guide to make an informed buying decision.
In addition, the post will also highlight the 3-best car emergency escape tools in the market with detailed reviews and pros and cons.
What is a car emergency escape tool?
A car emergency escape tool is a device that is designed to help people escape from a vehicle in case of an emergency.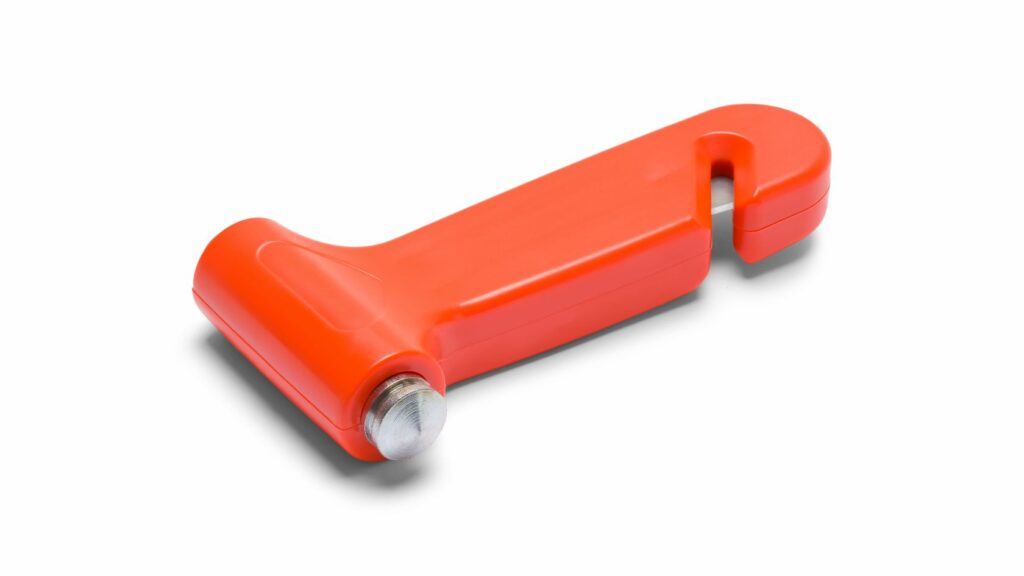 Such tools are also called car escape tool or life hammer which typically consists of a seat belt cutter and a window breaker.
A car escape tool is a useful device to cut a seat belt and break the window to get away from an emergency car situation like a collision, fire, water submergence, etc.
3 Best Car Emergency Escape Tools
As an Amazon Associate, we may earn a small commission if you purchase any product by clicking the link without any additional cost to you.
Lifehammer Emergency Escape and Rescue Tool
Lifehammer is a reputed brand in the emergency escape tool category. This product has a double-sided hardened steel hammerhead to break the window effortlessly.
The power behind the hammerhead is astonishingly strong enough to escape the vehicle quickly and avoid a potentially life-threatening situation. The hammer-like design provides a firm grip which will be helpful in putting full force to break the windows.
On the other hand, the ultra-sharp seat belt cutter on the Lifehammer is truly remarkable. The cutter knife is surprisingly sharp that can slice through the seat belt swiftly. However, it's worth noting that this knife/blade is not replaceable though, you can use it on multiple occasions.
One of the standout additions to the Lifehammer package is the inclusion of a mounting bracket. This ensures that the Lifehammer can be attached to a convenient location and remain within arm's reach in emergencies.
On the flip side, the mounting bracket is criticized by users for its small and unreliable structure. Even the screws are not provided to fix the bracket. A better alternative would be to store the tool in the glove compartment or any other location in the car that is easily accessible.
Lifehammer is GS certified by the German TUV which is a reputed automotive certificate. This certificate is a symbol of quality and reliability. The storage and portability shouldn't be a problem as the Lifehammer weighs less than 5 ounces/0.3 pounds.
Pros
The hammer-like design makes handling easier
Comes with two-sided steel hammer heads
High-quality tool certified by German TUV
Lightweight yet powerful
Easy to carry and store
Cons
Mounting bracket is difficult to install
Irreplaceable seat belt cutting blade
Ztylus Stinger Car Emergency Tool
Ztylus Stinger Car Emergency Tool is a multipurpose tool that offers both everyday convenience and life-saving capabilities.
The spring-loaded design on Stinger can shatter the car glass efficiently with minimum effort. The other advantage of the structure is the gun-shaped design that makes gripping and handling easier.
The razor-sharp blade is located on the top which is small yet effective in cutting the seat belt in quick time.
Apart from the two basic features, Stinger also comes with a dual USB charger port which is always a handy and practical element. This additional feature is RoHS and CE certified ensuring protection from over-charging, over-heating, short circuits, etc.
However, many users seemed unhappy with the charging speed of this tool which remains below standard compared to a conventional phone charger. Still, Stinger's USB charging ports are something that will be most used if your car is not equipped with a wireless charging feature.
Stinger is small in size and weighs less than 3 ounces which makes it easy to store or carry with you anywhere. The product package does offer a protective case to keep it safely stored.
Pros
Intellectual multifunctional design
The 3-in-1 tool also offers a USB charging feature
It comes with an effective spring-loaded designed spike
Very lightweight and easy to carry
Cons
USB charging speed is below standard
The device may feel very small in some hands which can make usage difficult
Resqme Emergency Car Escape Tool
The Resqme Emergency Car Escape Tool is made to be a lifesaver. One of the main highlights of Resqme is its weight and size which makes it easy to access and use in an emergency situation.
The diagonal cutting technique and a razor-sharp stainless steel blade make the effort of cutting the seat belt a breeze.
Another impressive aspect of the Resqme tool is its heavy-duty spike made of steel that can shatter the corner of the windows with ease. Thanks to its spring-loaded mechanism resetting the tool for the next use is tension-free.
The Resqme tool is designed to attach to a keychain so that you don't have to worry about complicated installations or finding a suitable place to store it.
The tool is extremely lightweight and small which means it can be carried without any effort. At the same time, the design could hinder the gripping aspect.
Someone with beefy hands will find it difficult to hold the device properly in emergencies. Another drawback is the accessibility to seat belt cutters. People with finger problems may not be able to remove the clip and use the cutter effectively.
All in all, Resqme is a basic yet effective tool to break windows and cut seat belts. However, it lacks the size required for a forceful punch and does not possess any additional features.
Still, I would recommend this tool to anyone looking to own an escape tool not hoping to use it very often. Price is another factor that makes Resqme a worthy investment.
Pros
Very compact and lightweight
Easy to carry and store
Can be used multiple times without too much effort
Extremely affordable
Cons
Lacks durability
The smaller size makes handling difficult
The importance/benefits of a car emergency escape tool
Why should you have an emergency escape tool in a car? Here are the following important reasons:
Life-saver – An emergency tool as the name suggests can be a life-saving equipment in critical situations like car accidents, fires, or submersion in water. In many instances, car occupants get trapped inside the vehicle due to malfunctioning doors and seat belts.
Related Read: What can cause a parked car to catch fire
This is where an emergency tool can be effectively used to break windows and cut seat belts for a quick escape in a life-threatening situation.
Easy to use and store – An emergency tool is very easy to use and store because of its miniature size and easy accessibility. Most of these tools replicate a hammer-like design that is loaded with a pointed spike to break the window and a sharp blade to cut the seat belt.
You don't need a big storage space to carry an emergency tool as it can be accessed by attaching it to the keychain or stored in a glove compartment or center console easily.
Low cost and versatile – A car emergency escape tool is a low-cost and versatile tool that can be purchased for just $10 on average.
Some of the escape tools are also equipped with LED torch lights, tire pressure gauges, etc. along with the basic features of window breakers and seat belt cutters. This means using the tool to fulfill multiple tasks in a car.
Protecting self and others – An emergency escape tool is designed to be used on car windows and seat belts however it can also be used to protect yourself from other situations like theft or harassment. The powerful spike and sharp blade can come in handy for self-defense.
Secondly, you can use the same tool to help other occupants or individuals trapped in an emergency or need immediate help. By breaking windows or cutting seat belts, the tool allows you to save other vehicle owners from risky situations.
Buyer's guide: Factors to consider while buying a car emergency escape tool
Ease of usage – The escape tool should be easy to handle and use. Considering the fact that an emergency tool will be used in a highly stressed situation, look for a tool that feels easy to grip, and works effectively in the first attempt.
Durability – You want an escape tool that lasts longer not only from a usability perspective but also from an aging purpose.
Choose an escape tool made from high-quality materials that can withstand the force required to break windows and cut seat belts. It should be durable and built to last enough in case of irregular usage.
Size and weight – An ideal size for a car emergency tool should be small enough to be easily stored in your vehicle. At the same time, it should be large enough to provide a good grip while using it.
A weight of around 1-2 pounds is generally considered appropriate for easy handling in emergency situations. It should not be too heavy which can demand more effort and application when needs to be used.
Types of emergencies – An emergency situation is not limited to getting trapped inside a car.
A 2-in-1 tool capable of cutting seat belts and breaking the glass will be a wise decision to buy however having additional features like built-in flashlights, emergency whistles, knives, USB chargers, etc. can help you remain ready for different types of emergencies.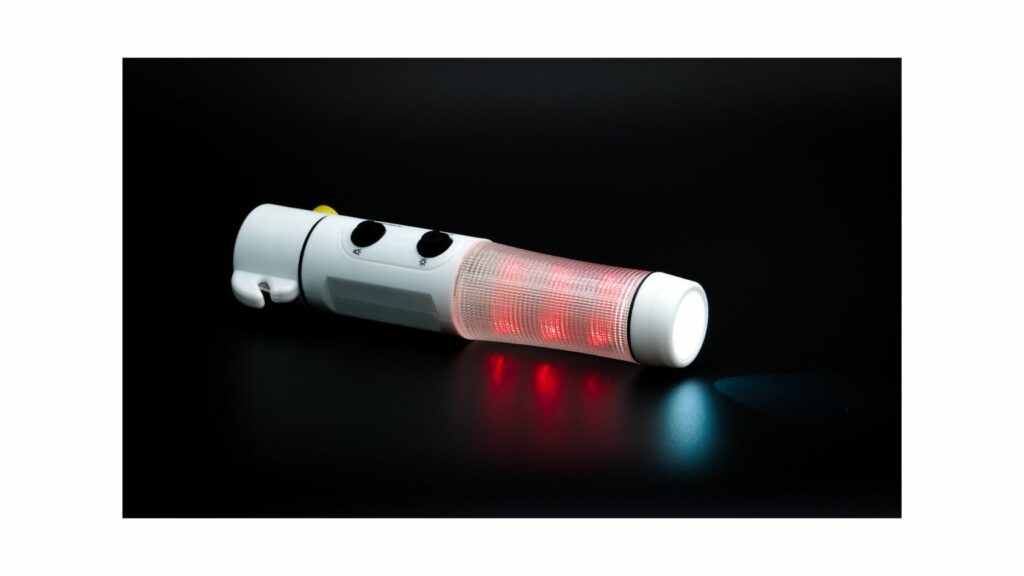 Determine your situation and driving conditions and analyze if you need anything extra than the standard features of an emergency escape tool.
I personally recommend a tool with additional features that can always come in handy in circumstances other than cutting seat belts and breaking windows.
Compatibility – Ideally, the compatibility factor is one of the most important requirements in an emergency escape tool. Different vehicles have different types of windows, sizes, and shapes.
Tempered glasses and laminated glasses are the two commonly used windows in cars, SUVs, trucks, and vans.
Most escape tools are specifically designed for breaking tempered glass so ensure that the escape tool you choose is capable of doing this and can be used on side and rear windows.
Accessibility – When it comes to accessibility some car escape tools come with mounting options allowing you to securely attach them within your vehicle for easy access.
Similarly, the seat belt cutter component of the escape tool should be easily accessible and able to cut through various types of seat belts effectively.
Moreover, an ideal car escape tool should be compact and easily portable. Look for a tool that can be conveniently stored in a glove box, or mounted in a visible and reachable location.
Price – Pricing shouldn't be a problem since most of these escape tools range from $5 and go up to $50. The pricing factor will vary depending on your personal requirements and the additional features a tool carries.
Consider your budget, but prioritize quality and reliability over the price. Look for an escape tool that offers a good balance between affordability and features you need for your safety requirements.
Note: All the above-listed emergency escape tools may not work effectively on laminated glasses. It is worth recommended to check the type of glasses your vehicle has before investing in such tools.
How to use a car emergency escape tool effectively?
In order to use a car emergency escape tool first choose a tool according to your requirement. Once purchased, keep the tool in a readily accessible location within the car or install it in the mounting bracket.
The location and accessibility are important so that you can quickly locate the tool and remove it in case of an emergency.
More importantly, familiarize yourself, with the tool by reading the instructions and understanding its features mainly the seat belt cutter and window breaker options.
When you face an emergency it's crucial to remain calm and composed. Assess the situation and surroundings before taking action.
If your seat belt becomes jammed or you are unable to release it use the seat belt cutter. Hold the tool firmly and position the blade against the belt as instructed in the manual.
Apply necessary pressure and cut across the seat belt to release yourself. Be cautious not to cut the seat belt too close to your body.
If you are trapped because of the locked/jammed door, identify the window breaker and aim at the corner or edges of the window to exit the vehicle.
Position the window-breaking spike on one of the corners and apply firm pressure by pushing or striking the window to break it. Depending on the type of tool you have, the spike will reset automatically for the next use.
Once you have released yourself exit the vehicle as quickly and safely as possible. Assist others, if necessary, and move away from the vehicle to a safe location.
Here is a small video to help you understand how to use a Resqme tool in a car emergency:
Remember, you can break the windows that have tempered glass. A laminated glass will be hard to break with an escape tool however you can still try performing the task if it is a matter of life and death.
As per AAA, you must avoid attempting to break the laminated window underwater and follow the air bubble till the water pressure equalizes and doors can be opened.
How to maintain a car emergency escape tool?
Always refer to the manufacturer's guidelines and instructions to maintain a car emergency escape tool.
The requirements and specifications may vary with different types of escape tools. In addition, you can follow some basic steps to keep an escape tool always ready and handy:
Regularly inspect the tool for any signs of damage or corrosion. Pay special attention to the blade of the seat belt cutter which normally attracts rusting if not used or stored appropriately. If you notice any issues, consider replacing the blade (if replaceable) or the tool with a new one.
Spring-loaded mechanism tools can be prevented from rusting and corrosion by applying a small amount of lubricant. Ensure to follow the recommendations by the manufacturer before using any lubricant on the tool.
If your emergency escape tool has additional features such as a flashlight it may require charging or battery maintenance. Follow the manufacturer's instructions to keep the device well-maintained and charged for consistent performance.
How much does a car emergency escape tool cost?
A car emergency escape tool costs from $10 to $20 with basic features. A multipurpose tool with added features may go up to $50.
What is the best place to store an emergency escape tool in a car?
The storage place may vary according to the size and weight of an escape tool. Some of the ideal places you can use are a glove compartment, center console, key chain, cigarette lighter, etc. to store an escape tool.
Conclusion
One cannot anticipate an emergency situation in advance. It is always unexpected and when it really happens the last thing you want to miss is life-saving equipment.
This is where a device like an emergency escape tool comes in handy. Imagine being trapped in a car engulfed with fire, or getting submerged in water. Having an emergency escape tool in such circumstances can do a wonderful job of saving your life and others as well.
What makes such tools worthy of investment is their price. These are cheap and can be easily stored, and carried. We do not wish that you ever get caught in a situation to use emergency tools. However, it is always better to be safe than sorry.
If you are confused about choosing a suitable product from hundreds of devices then go through our list of best 3 escape tools. These are measured based on price, performance, and practicality and are seriously backed by 1000s of users using them.