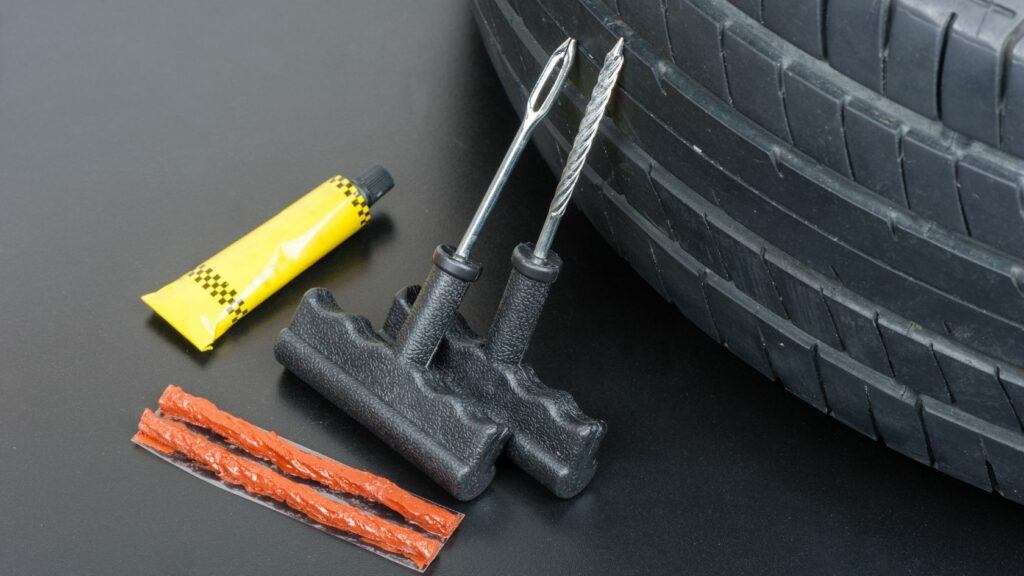 A tire repair kit is a very popular, easy, cheap, and effective way to fix tire punctures. But is the tire repair kit a permanent fix to drive on for a long time?
Having a tire repair kit will help you get back on the road in a quick time. It is also one of the easiest ways to repair small to moderate punctures on your own. However, how long does a tire repair kit last?
Is tire repair kits helpful in saving costs on tire replacements and professional services? what are the best tire repair kits one should have? What are the factors when choosing a tire repair kit?
These are some of the questions you will find answers to in this post. Moreover, we will also look at how to use a tire repair kit accurately to keep the tires in good shape.
Is the Tire Repair kit a permanent fix?
No. A tire repair kit is not a permanent fix. It is a temporary solution to get your car wheels moving to some extent.
Using a tire repair kit will help you get to a nearby service station to have the tire properly fixed. In some cases, you may go further depending on the quality of repairs done.
The effects of tire repair kits also depend on the size of the puncture and the type of fix applied. Tire repair kits come with accessories that help you fix tires from the inside and outside.
A fix done to the internal portion of tires is called patching which is long-lasting but not permanent.
Plugging is another method to fix a tire on the outer part of the tires and this is surely a short-term solution to help your vehicle tires run.
How long does a tire repair kit last?
Tire repair kits are long-lasting. Some companies sell these units with a lifetime warranty. The kit is equipped with metal tools and sealants. A good-quality tire repair kit can last for several years with proper maintenance.
Some factors like the type, usage, and quality are instrumental in judging the durability of a tire repair kit. Make sure to properly store, and maintain the tire repair kits for long-time usage.
How long does a tire repair (plug/patch) last?
Generally speaking, tire plugging or patching can last from a few months to several years. It normally depends on the type of plug or patch repair and the environment in which the tire is used.
Tire repair experts claim that a properly applied patch can last from 5 to 10 years and an appropriately plugged tire has the capacity to run for 25K miles.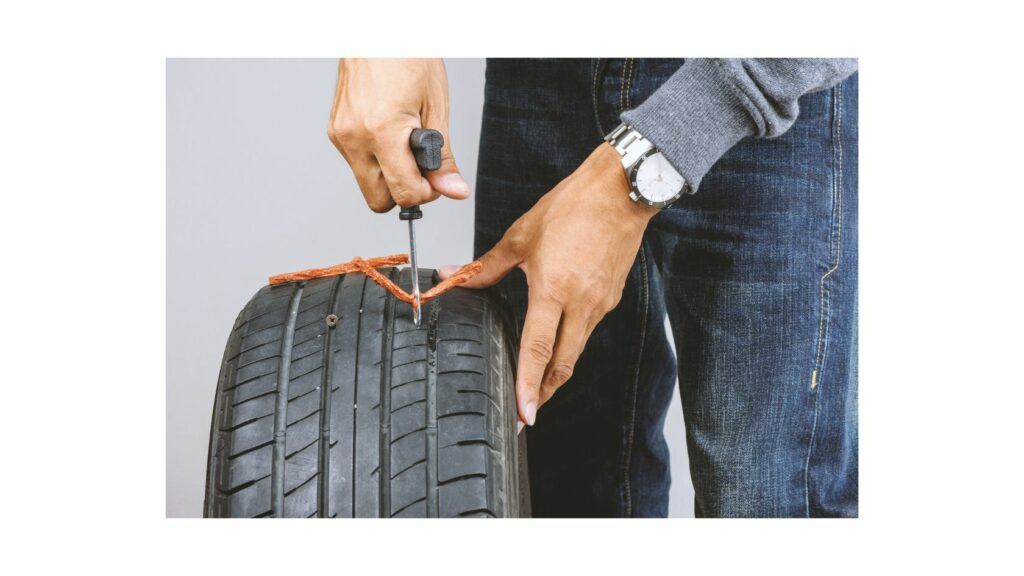 Having said that, any fixes done through tire repair kits should be re-inspected by professional tire mechanics.
If the tire is punctured repeatedly on the same spot or used in a harsh environment a tire replacement is recommended.
Benefits of having tire repair kits
Keep you moving – A tire repair kit will help you keep moving on the road. Unexpected tire punctures are not very often but when they occur a tire repair is a much better choice than standing helpless on the road, waiting for someone to help you fix the tire, or finding a tire repair service.
With a tire repair kit, you can use the elements with the help of instructions and fix the small punctures on the go.
Saves time and effort – By learning and getting used to the process of utilizing a tire repair kit, you can easily fix the punctures in less time. It won't take more than half an hour to get your car wheels moving.
Secondly, in the absence of a tire repair kit, you may have to mess with the jack and wheel brace to replace the tire with a spare one. Fitting a spare tire is more tedious, and demands lots of hard work, and time which can be saved by having a tire repair kit.
Cost-efficient – A single tire repair kit is capable of fixing at least 40 to 50 punctures (depending on the sealant strips). A one-time spend on a tire repair kit will help you save money on the expensive service charges taken by professionals.
It will also prevent costs on towing services that may be required to tow your vehicle to the nearest service station.
Portable–The average tire repair kit bag does not weigh more than 2 pounds which makes it lighter and smaller than a spare tire.
It can be easily carried and kept in the car trunk, and in some cases below the seats making it highly portable.
Buying guide: Factors to consider while choosing a tire repair kit
It is imperative to know the factors when choosing a tire repair kit. Some kit packs have more tools which could be overwhelming, some offer basic tools which could be confusing.
In such a scenario, it is better to have proper knowledge about tire repair kits to make the right purchase.
A number of tools – First thing to look at is the number of tools a tire repair kit has. Generally, basic tools such as a patch/plug kit, a tire pressure gauge, and an air compressor would be enough to get the job done.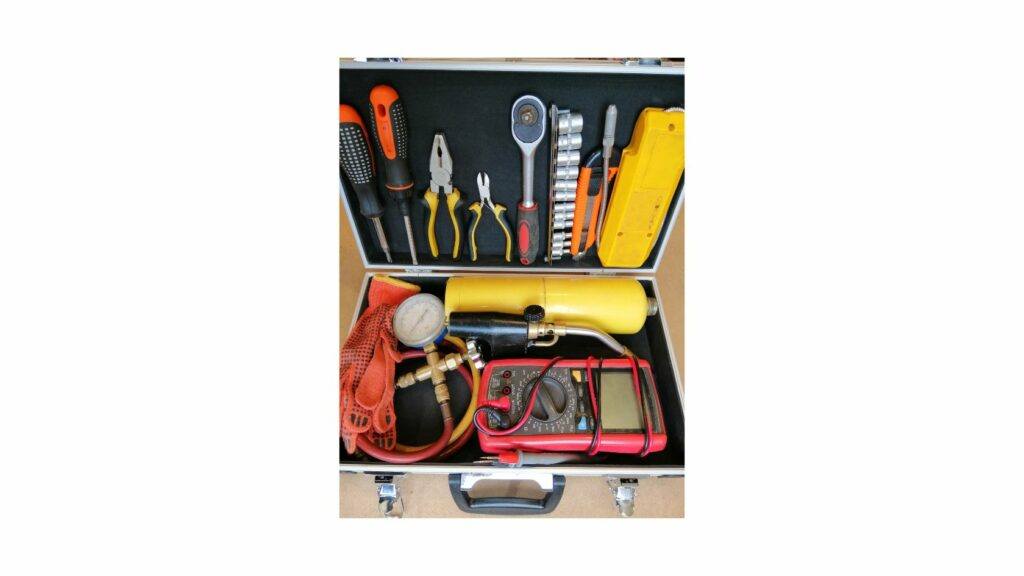 Having a kit offering more pieces of instruments related to tire repair is a better choice. Consider a kit equipped with LED lights/torches, adapters, valve caps, etc. for better efficiency and quality repairs.
Size – Size is important for several reasons. Many companies offer bigger cases with fewer instruments. Make sure to select a case that is built to accommodate more tools and occupy less space.
A properly-sized tire repair kit is easy to carry, and made of a tough material storage case which also eliminates the risk of losing the tools.
Compatibility – Check the compatibility of a tire repair kit before purchasing. Some kits offer tools that are specific to vehicle size and model. Go for a versatile kit that can be used on different types of vehicles such as cars, trucks, SUVs, tractors, etc.
Above all, an important consideration is to check the size of tires a kit can accommodate.
Secondly, having a kit that offers both plug and patch instruments is highly compatible to work on smaller and slightly bigger punctures.
Easy to use – Tire repair kits are made for people who want to fix the punctures with their own hands. Hence, the process to patch/plug the tires should be easy.
Ease of usage depends on the shape and quality of the instruments. The pliers, T-handles, etc. should be user-friendly and easy to handle. Tire pressure gauge, and air inflator unit must be accurate for ease of understanding.
It is important to value the easiness and user-friendliness of a tire repair kit for correct usage.
User Instructions – The instruction guide plays a very important part in tire repair kits. First-timers will be overwhelmed to see so many tools and using them could be difficult without any guidance.
Make sure to choose a kit that includes easy-to-follow instructions mainly with color pictures so that the repair task is performed correctly. Proper repairs are important to keep the tire fixes running for a longer time.
Cost – The cost associated with tire repair kits should be affordable. These units are not for day-to-day use so, purchasing an expensive kit may not bring the expected returns on your investment.
Having said that, do not compromise on the quality for the price. Ensure to purchase a kit that has high-quality tools that remain durable enough to serve you for many years.
Warranty–Last but not least is the warranty. To make the most out of tire repairing tools look for a brand or company that offers a warranty for a very long-time. A lifetime warranty is more preferable.
Tire repairing tools are made of metals so there is a possibility of them catching rust and corrosion after a few years. A lifetime warranty will ensure that the tools are timely maintained or replaced for continuous performance.
3 Best Tire Repair Kits
Now that we know about the factors a tire repair kit should have it is time to buy one. There are 100s of them but no worries! I have made your job easier by listing the 3 best tire repair kits based on our buying guide:
Boulder Tools – heavy-duty tire repair kit
Boulder is a reputed name in the world of tire repair kits. There are a variety of kits offered by Boulder but this specific product (BT4001) is designed for heavy-duty usage.
The kit is highly compatible and versatile to fix punctures (small to moderate) for cars, trucks, SUVs, ATVs, tractors, trailers, and even Motorcycles.
There are a total of 56 high-quality and ergonomically-designed tools consisting of pliers, T-handles, lubricants, cords/strings, valve accessories, screws, and a couple of storage cases.
The kit has a perfect combination of all the must-have instruments a tire repair kit should have.
More importantly, it weighs just 2.6 pounds making it highly portable. Boulder offers a lifetime warranty on this product that you can utilize to maintain or replace the tools.
The best part is it is easy to use and comes with color pictures that show the step-by-step process of applying the repair on tires so anyone can use it.
Pros
Highly versatile and compatible
Comes with a lifetime warranty
Offers a variety of high-quality tools (56 pieces)
Very easy to use with step-by-step instructions
Cons
Kit does not include a tire pressure gauge or a tire inflator
ARB is a trusted and reliable name in the automobile industry since 1975. Their Speedy Seal tire repair kit has come a long way since its inception.
This tire repair kit is made for heavy-duty usage meaning you can work on tires related to all types of four and two-wheelers (small and big). It is an all-in-one kit that allows the repair of up to 50 tubeless tires.
The kit includes 30 pieces of self-vulcanizing cords, an Allen key, a small tire gauge, lubricant, valve instruments, a blade, and pliers.
The kit is easy to carry weighing just 3 pounds and can be conveniently stored in the vehicle with its strong plastic molded case.
The repairing of tires works in 5 simple steps and to make understanding easier it offers a detailed instruction manual.
Pros
All-in-one kit with high-quality tire repairing tools
Easy to use and store
Can repair up to 50 tires
Works on all types of small and heavy vehicles
Cons
Carry case clips are made of plastic making the latching weaker
Kit does not include a tire inflator
Slime 50122 flat tire puncture emergency kit
Slime is the pioneer brand in offering several auto-care products. One of them is Slime 50122 puncture repair kit that can be used in emergencies to fix small punctures temporarily.
This kit can be used on car tires, motorcycles, and some kinds of heavy vehicles (not trucks). It includes a sealant (refillable), tire inflator pump, pressure analog, pressure release valve, and necessary screws.
The highlight of this Slime tire repair kit is its ease of use. It works on just 4 simple steps and offers detailed guidelines in the form of an instructions guide. Using this kit does not require jacks or pliers.
Slime tire repair kit can be easily plugged into a 12V car accessory charger and help you refill the gaps and inflate the tire in just 10 minutes.
It weighs just 3 pounds and is very compact to carry and store. One simple repair will make your vehicle tire run for 500 miles enough to find a nearby tire service station. You can use it as a tire repair kit as well as a tire inflator to maintain the tire pressure.
Pros
Very easy to use
No requirement for jacks, or any other tools
Comes with a built-in tire inflator and pressure analog
Works on different types of vehicles/tires
Cons
Repair does not long last
Mostly conducive for small vehicles
How to use the tire repair kit accurately?
The best way to use a tire repair kit is by following the instructions provided by the manufacturer. Do not get overwhelmed seeing the tools a tire repair kit comes with.
First of all, if you are caught in a flat tire situation pull aside slowly without panicking. Next, inspect the tire to identify the issue. Make sure the tire is actually punctured or gone flat due to air leakage.
There are instances where the valve stem issues can cause air leakage which cannot be repaired with some tire repair kits.
Similarly, if the puncture is too big (more than ¼), or there are multiple holes/cuts on a tire plugging or patching may not work.
Steps to work with a tire repair kit:
Locate the puncture – Use a tire inflator to blow up the tire. This can help you locate the spot from where the air is leaking.
Remove the object – Once the spot is located remove the object (if any) from the spot. You can use the pliers provided in the tire repair kit.
Make the hole/cut convenient for repairing–Use the spiral tool/T handle in a clockwise manner to expand the hole.
Use your judgment to make the hole big enough so that the seal strip can fit in easily. Avoid this step if you feel the hole is sufficient for the sealant.
Insert the sealing strip/sealant – Fill the hole with the sealing strip. Make use of the insertion tool to feed the hole with the strip and ensure to leave the half portion of the strip outside hanging.
Cut the left-out strip – Make use of the knife to cut the left-out portion of the strip and check the hole is perfectly filled with no gaps left.
Check the pressure – Again inflate the tire using an inflator to check any leakage. You may also use the soap liquid for better identification. If nothing is found or heard you are good to go.
If you are using a tire repair kit with only sealant and a tire inflator like Slime you may avoid a few steps from the above list.
Conclusion
There is no doubt a tire repair kit is a great way to fix small punctures in a quick time and keep moving. But remember such kits are used only as a temporary solution and you must strengthen the repairs as soon as possible by visiting a tire service station.
Always adhere to the guidelines and instructions while using a tire repair kit. Avoid using the kit on the same spot again and again as it may weaken the rubber quality of a tire. Do not try to repair big punctures or holes as it may worsen the damage.
As a precautionary measure, drive within speed limits on smooth roads to keep your car tires healthy. Perform timely maintenance so that you hardly face a tire repair situation.
If you do, then keep a tire repair kit from our list of the best 3. These are selected based on the quality, usability, performance, and more importantly the trust they have created among the users.
I hope you have understood the importance and value of a tire repair kit and now stand in a better position to choose a kit that suits your needs after reading this post.