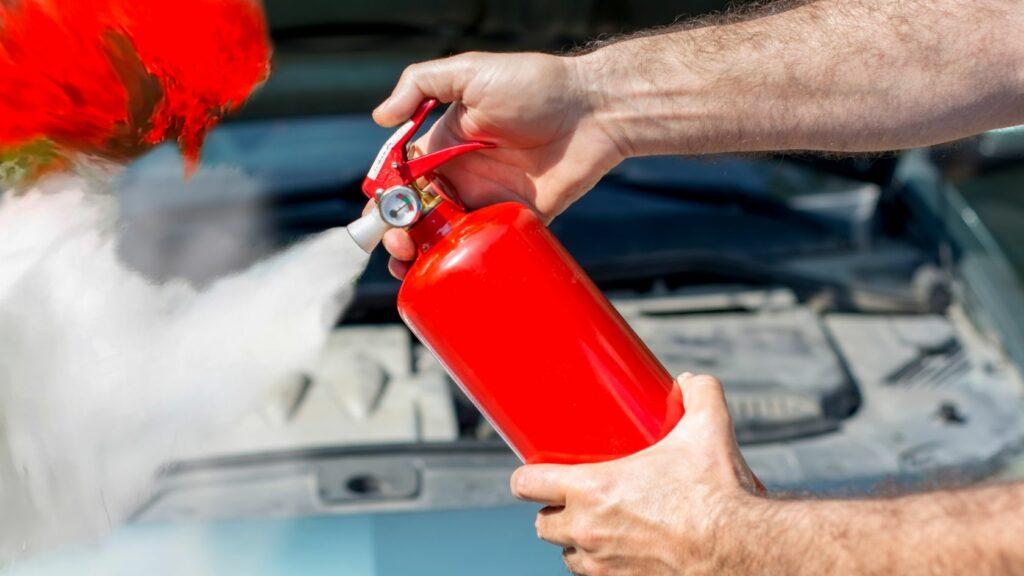 With the list showing 100s of products your mind keeps wondering 'What is the best fire extinguisher for a car'.
Choosing a fire extinguisher is always challenging if you don't know exactly what to look for. There are many inferior products you may come across and buying them could compromise your safety.
In this post, you will find the list of 3 fire extinguishers that are best in terms of performance, reliability, and trust. You will learn about their features, pros, and cons.
I will also highlight the points to be considered while making a purchase and the benefits of using fire extinguishers for a car.
What is the best fire extinguisher for a car?
The best fire extinguisher for a car is one that is certified or rated to control all types (A/B/C) fires. It should be easy to carry (lightweight), easy to use, sturdy, and compact.
Some of the other factors you must consider while looking for the best fire extinguisher are its build quality (metal valve), rechargeability, and mounting bracket.
3 Best Fire Extinguishers for A Car
I have curated a list of 3 fire extinguishers to save you time and reduce confusion:
As an Amazon Associate, we may earn a small commission if you purchase any product by clicking the link without any additional cost to you.
First Alert is the best-selling brand in fire extinguishers since 1958. Its model FE1A10GR195 is fully capable of fighting all types of fire including A/B/C categories. It weighs just 4 lbs.
This equipment comes with a commercial-grade metal valve which increases durability. There is no need to bother about accidental discharge as the unit is fixed with a safety seal to protect the metal pin.
It is UL-rated 1-A: 10-BC and approved by the US Coast Guard for marine use as well. This fire extinguisher is sturdy and takes just a few seconds to discharge the retardants.
It is fully rechargeable, comes with a 10-year warranty, and includes a mounting bracket to install it securely.
Pros
Light weight makes it easy to maneuver
Comes with a mounting bracket for safe installation
Capable of handling all types of car fires
10-year warranty and fully rechargeable unit
Cons
The mounting bracket comes without screws
Ideal for dousing small fires only
Kidde Pro 210 is a small but very powerful dry chemical fire extinguisher to handle all types of fires. It is rated 2-A: 10-BC for multipurpose use.
There is a pressure gauge to detect the pressure status so that you know when to use it. The discharge time is between 13 to 15 seconds which is fairly quick.
It works on a P.A.S.S usage method where you just have to pull the pin, aim the location, squeeze the handle, and swipe around for quick results.
The sturdy metal body comes with a chrome-plated brass valve and is fully rechargeable. It offers a 6-year warranty and weighs around 4 lbs.
This fire extinguisher can be easily installed with an associated plastic hanger.
Pros
Very easy to use
The small and sturdy structure makes the installation hassle-free
Comes with a pressure gauge to detect the pressure
Fully rechargeable
Cons
Price is comparatively expensive
Amerex B402 is a 5lb dry chemical fire extinguisher with a rating of 3-A: 40-BC to control all types of fires. It has steel cylinders and comes with rugged metal valves for extended durability.
With the structure and weight, it carries, this fire extinguisher is capable of handling bigger fires to an extent which makes it ideal for small cars and big SUVs as well.
The discharge time is 14 seconds which is on par with its competitors. This unit is again rechargeable and offers a 6-year warranty on maintenance and services.
Pros
Made of high-quality steel and metal valves for better durability
Can be used to douse bigger fires
Ideal for small and big vehicles
Easy to install and use
Cons
The mounting bracket is not included in the package
Slightly heavier for small cars
Buyer's guide: What to look for when buying a fire extinguisher for a car
Buying a fire extinguisher is easier said than done. When you are considering buying a fire extinguisher the first thing you should know is the types of fire extinguishers available.
Types – Fires have different categories. It is imperative to know that cars are equipped with elements and materials that fall into the class A/B/C category of fires.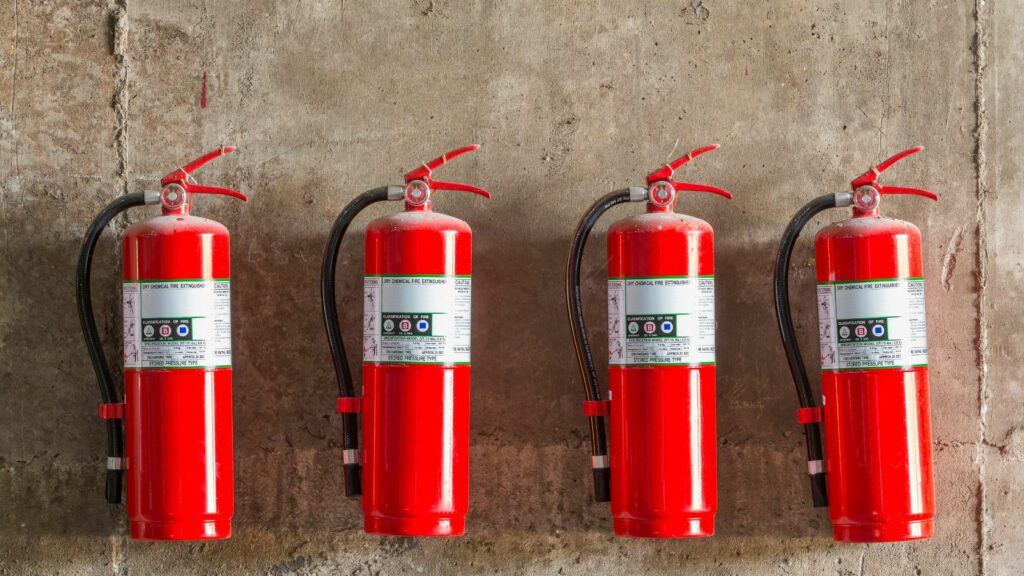 Class A fires occur due to the burning of upholstery, wood, and paper. The intensity of the fire in such categories is low to moderate and can be controlled easily with water-based fire extinguishers.
Class B fire is a type of fire that is caused by flammable liquids in a car. Such liquids include gasoline, oil, etc. which remain an essential part of every vehicle.
The intensity of class B fires is always worrisome so it is better to control them in the initial stages.
Fire extinguishers consisting of foam, carbon dioxide, or powder can be used to douse off such fires.
Class C fires begin to spread with malfunctioning electrical wires. Such fires are hard to control as wires are interconnected and laid out in different sections of a car. Again, a carbon dioxide or foam-based fire extinguisher can be used to deal with class C fires.
You do get separate extinguishers to control different types of fire however, it is recommended to purchase a fire extinguisher that is rated to control A/B/C fires.
Size – The size of a fire extinguisher does matter if you intend to use it in a car. This is because of the space and location capacity of the vehicle you own.
Small and compact cars can accommodate fire extinguishers weighing 1 or 2kg. They are easier to remove and discharge. However, such fire extinguishers are ideal to control small fires only.
Bigger and heavier-size fire extinguishers are best suited for pickups and trucks. Embedding big-size fire extinguishers in small cars carries the risk of damage and injuries. It may also delay the process of using such units due to their weight and size.
Fire extinguishers are best used to reduce the intensity of fires from spreading further and to do this a small size powder-based extinguisher is enough.
Easy to use – A typical fire extinguisher can be used in two easy steps. Pulling the pin, and squeezing the handle to release the retardant. Make sure there are no other complications to using the unit apart from these two.
Discharge time – Discharge time is crucial to put off the fire. An extinguisher with a longer discharge time can delay the process of controlling the fire.
Smaller fire extinguishers have quicker discharge times than bigger ones. Aim to carry a fire extinguisher that will help you put off the fire faster.
Durability – Look for a fire extinguisher that lasts long owing to the material used. You may find some equipments with plastic valves. These are useless. Buy the ones that have metal valves as they survive longer.
Secondly, fire extinguishers do come with warranties. It is better to have a unit that offers a longer warranty say 5 years. Remember, you are dealing with a product that won't be used very often and hence, will require periodic maintenance to remain active.
Accessory – A mounting bracket is a perfect accessory for installing a fire extinguisher. Many manufacturers sell mounting brackets/vehicle mounts with their products.
A mounting bracket is useful to keep the fire extinguisher intact and unmoved which can avoid damage and malfunctioning. Look for a product that comes with a mounting bracket for ease of installation and security.
Reusable – A reusable fire extinguisher has rechargeable functionality which is a handy feature to save cost. This means you can recharge the unit in case the retardant is empty and use the same to quench the next fire.
Benefits of fire extinguishers in automobiles
Many people hesitate to purchase and keep fire extinguishers in a car for safety reasons.
If you are one of them then here are some of the benefits of fire extinguishers that may prompt you to change your mind:
Controlling fires – Fires are unexpected instances to occur in a car while you are on the road. Rather than panicking the best act to perform in such a situation is to try to control it.
This is only possible if you have a fire extinguisher which can help you reduce the intensity of the flames and even eliminate the fire completely in some cases.
Protecting self and others – Fire extinguishers are crucial to containing the fire in the initial stages. If you can stop the flames from spreading further you are definitely saving yourself and your loved ones.
Keeping a fire extinguisher can also make you a helping citizen. If not for your own sake, you can help others on the road who are caught in a car fire situation.
Reduces damage – Cars are prone to overheating, electrical malfunctions, battery failures, etc. Such deficiencies could lead your car to catch fire. It doesn't take long for a fire to engulf the whole vehicle if no efforts are made to control it in the first instance.
Fire extinguishers are capable of doing this and many people were able to reduce the damage to their cars by using such equipment.
Save cost – If the damages go out of control you stand at the risk of spending more on repairing and restructuring your car.
If the fire is controlled well in advance, you can save vital parts such as the engine, battery, etc. which could also save you lots of costs. So, spending a few dollars on fire extinguishers could result in bigger savings.
How to install fire extinguishers
Installing a fire extinguisher doesn't take much effort. There are two things you need for installation. One is a fire extinguisher and two is a mounting bracket with screws.
The first step is to find an appropriate place to install a fire extinguisher. In my opinion, the best place is your car's trunk. Here, the fire extinguisher remains safe from external heat, and other elements as well as remains easily accessible.
Installation place is subjective and wherever you decide to install it make sure it is easy to access and use.
Installation steps:
Many manufacturers offer mounting brackets that are attached to the unit itself. Remove the bracket from the extinguisher first.
Next, use the screws to fix the mounting bracket. In some cases, and with some types of brackets you may need to drill the holes for fixation.
Whatever the scenario, ensure the tightness and attachment of mounting brackets to the place of installation.
Lastly, insert the fire extinguisher inside the mounting bracket. Check the grip to ensure the instrument doesn't move while the car is in driving mode. That's it!
Conclusion
After assessing the fire scenarios, and benefits of using a fire extinguisher there is no doubt that it remains one of the most valuable equipments for a car. Not keeping it may have adverse consequences which could prove fatal in some cases.
Fire extinguishers are small metal units with low weight to carry, do not take much space, are easy to use, and hardly put a load on your pocket in terms of purchasing cost. There are more pros than cons to using a fire extinguisher.
We have listed 3 of the best fire extinguishers that are most used, tested, and trusted. These are based on the buying guidelines followed by millions of users and I am sure by following these guidelines you will be in the best position to choose one from the best of three.
Keep your car always maintained by following the servicing schedule and using fire extinguishers in case you are caught up in a tricky situation.