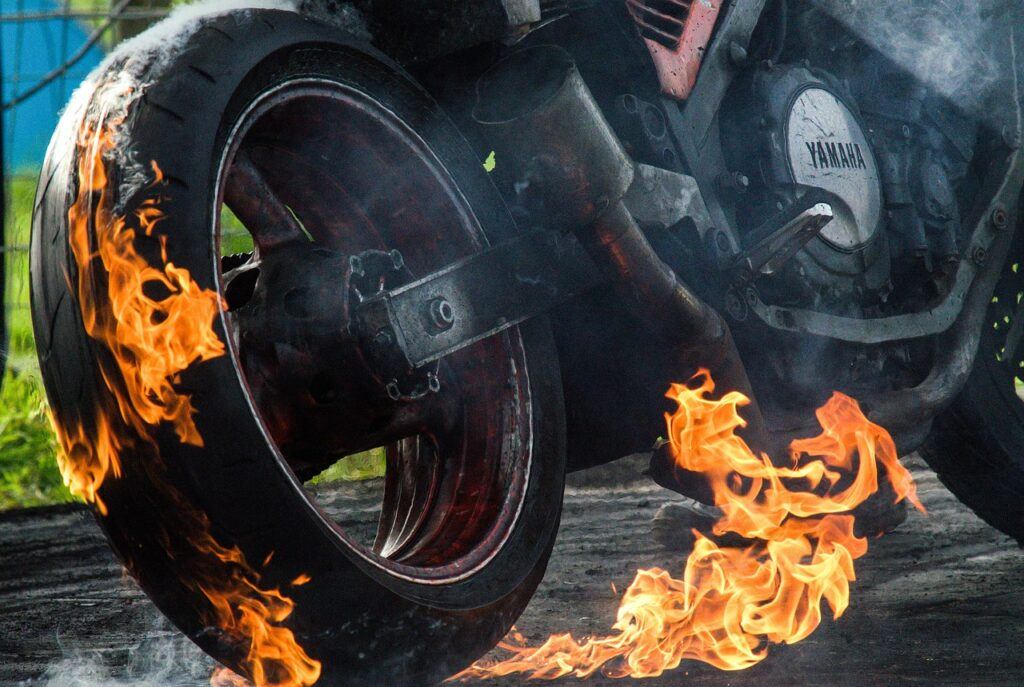 So, you researched fire extinguishers and cannot conclude what is the best motorcycle fire extinguisher after seeing too many options.
It's a bit tricky to choose a fire extinguisher for a motorcycle considering its structure and the limited space it carries.
If not mandatory, fire extinguishers can play an important part in rescuing your own physique and your motorcycle from getting severely damaged.
In this post, we will review the 3 best motorcycle fire extinguishers with their pros and cons. I will also guide you on the factors to consider while buying a fire extinguisher, and its usage.
What is the best motorcycle fire extinguisher?
The best fire extinguisher for a motorcycle is one that is small, compact, effective, and affordable. It should be designed specifically for vehicle fires that include A/B/C categories.
It is always a good practice to purchase a fire extinguisher with a mounting bracket. Lastly, look for a fire extinguisher that is easy to install and use.
3 Best fire extinguishers for a motorcycle
Here is the list of 3 fire extinguishers that are best for a motorcycle to carry, install, and use.
As an Amazon Associate, we may earn a small commission if you purchase any product by clicking the link without any additional cost to you.
H3R Performance MX100C is a small and powerful fire extinguisher. The size is perfect to be carried on a two-wheeler. It weighs only 2.6 pounds, which makes it easy to carry and use.
The equipment is 2B: C UL-rated to counter B & C category fires. H3R uses a dry chemical extinguishing agent to put out the fire ranging within 5-8 feet with a discharge time of just 10 seconds.
This unit is made of high-quality steel cylinders with metal valves which makes it strong and sturdy to withstand extreme weather conditions.
The extinguisher comes with two straps steel mounting bracket and offers a 6-year warranty which is really cool.
Pros
Very lightweight and compact in size
Easy to use and carry
It is rechargeable for re-usage
Steel and metal valves make it durable
Comes with a 6-year warranty
Cons
The price is expensive considering the size and capability
Conducive for small fires only
When it comes to extinguishing fires effectively First Alert dominates the section with its super-quality fire extinguishers. One of them is the AUTO5 FIRF9 model which is a compact yet very powerful unit.
This extinguisher is rated 5-B: C to clear off B&C category fires. This is completely water-proof, chemical-resistant, and made of a metal gauge that keeps the corrosion away. These features can easily tackle harsh weather conditions on a motorcycle.
The durable metal head carries a metal pull pin with a safety seal so that you don't have to worry about accidental discharge or tampering in case of a fall.
It weighs 2.7 pounds which makes it lightweight. The product takes a few seconds to discharge and comes with a secured mounting bracket. First Alert offers a 5-year warranty to perform maintenance and services on this unit.
Pros
Easy to use and carry
Waterproof and chemical-resistant
Comes with a safety seal to avoid accidental discharge
Offers default mounting bracket
Cons
The mounting bracket has no screws which makes installation cumbersome
Non rechargeable unit
StaySafe fire extinguisher is a product from LifeSafe technologies. This is more of an aerosol spray than an actual extinguisher. However, the size and type don't make it undervalued.
StaySafe is extremely lightweight weighing less than 1lb that can be carried even in your back pocket. So, installation won't be a problem.
Since it's a spray there is no need to bother about discharge time as it can be sprayed immediately after removing the nozzle. It is very easy to use and works on paper, wood, petrol, diesel, and electrical fires.
The spray comes with a 3-year shelf life which is quite sufficient considering it's made of plastic material. This is a multipurpose fire spray built to control home, office, and automobile fires which makes it a good return on investment.
Pros
Extremely lightweight makes it easy to carry
Very easy to use and discharge
Works on all types of fires (A/B/C)
The plastic body makes it recyclable and environment-friendly
Cons
Limited capacity due to its size and weight
The plastic body reduces durability
Non-rechargeable spray
Buyer's guide: Factors to be considered while buying a fire extinguisher for a motorcycle
Type – Check the fire extinguisher for the type of fire it can encounter. Combustible liquids and electrical fires are more common in motorcycles so B & C category fire extinguishers should be an ideal choice.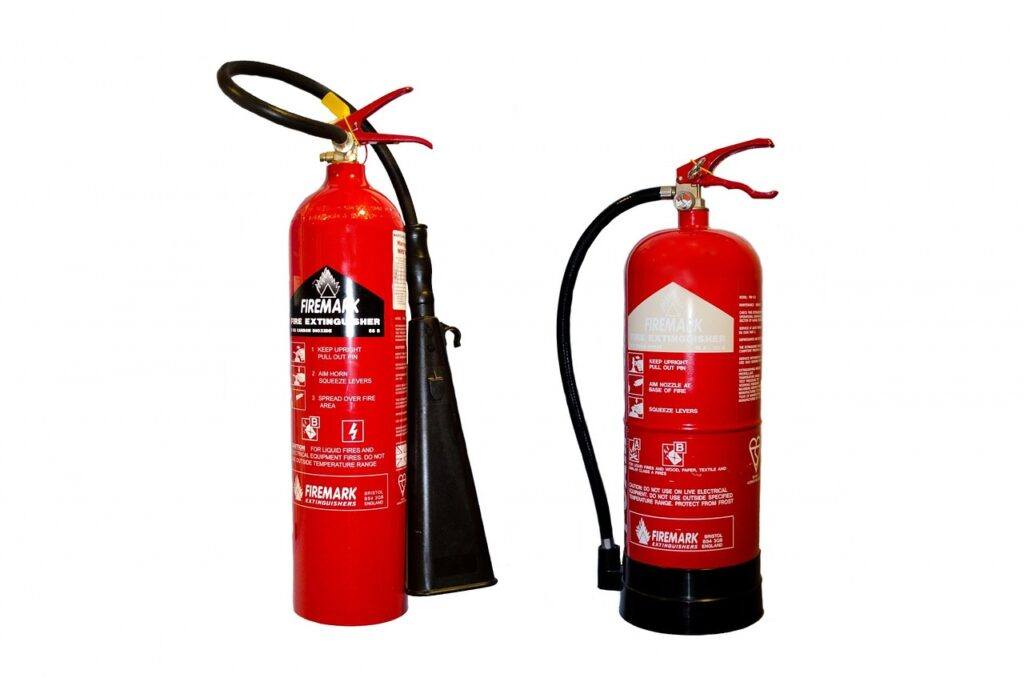 Class A fires are categorized for paper, wood, and upholstery which may not be too effective. Alternatively, the A/B/C category fire extinguisher should be the second choice.
Size – Small and portable fire extinguishers are more suitable to carry on a motorcycle. A 2.5-pound powder/chemical-based fire extinguisher will be easy to carry and perfect for dousing small motorcycle fires.
Make sure the fire extinguisher is not too heavy for the motorcycle to carry.
Use – A fire extinguisher should be easy to use. Make sure to check the instructions and guidance on the usage.
Fire extinguishers work on simple steps of pulling the pin and spraying the retardant on the fire. Ensure there is no other requirement to use as it may delay the process of cooling the fire.
Another point of important consideration is the discharge time. It should take no more than a few seconds to release the retardant on impacted parts.
Installation – Consider a fire extinguisher that is easy to mount. For this, make sure to look for an extinguisher that is sold with a mounting bracket.
Check for the sturdiness and grip of the mounting bracket to avoid the fall/slip of the fire extinguisher while the motorcycle is on the move.
Durability – This is one of the most important factors to consider as it directly relates to the outside temperature and weather conditions a fire extinguisher has to deal with.
Because of the open body structure of a motorcycle and its exposure to extreme weather conditions look for a fire extinguisher that can withstand climatic and environmental challenges.
Ensure the equipment is leak-proof and made with strong metal to fight the odds of atmospheric pressure.
Warranty – Fire extinguishers are seldom used equipment's and therefore need proper maintenance and service periodically.
Look for a unit that comes with a long warranty of at least 5 years so that you keep it always ready to combat unexpected fires at minimum cost.
Cost – Although fire extinguishers are not too costly, you must consider the one that is within your budget. These are hardly used equipment's so going for a costly unit may not recover your investment in the long run.
The importance of fire extinguishers for a motorcycle
As against a four-wheeler, fires in motorcycles occur quite often and spread very fast. If not controlled in the initial stages it can gallop the whole motorcycle in a few minutes.
That is why carrying a fire extinguisher is equal to carrying a life-saving unit when you are riding a two-wheeler.
The risk of fire in motorcycles is always present due to high temperatures, irregular maintenance, and potential leakages and spilling of fuel.
In case your motorcycle catches fire, the best thing to do is to call for help. If you are stuck at a place where reaching help will take too long fire extinguisher is the equipment to go for.
It helps reduce the extent of fire from further spreading and can even douse the flames completely. The importance of a fire extinguisher cannot be overlooked when riding a motorcycle.
Benefits of using a fire extinguisher for a motorcycle
It controls fire – Carrying a fire extinguisher is effective in putting out a fire quickly in the event of an accident or technical malfunctions. Small combustible fires caused by electrical problems, fuel leaks, and accidental falls can be controlled faster before they spread further.
It saves lives – You can save your life and other's lives too by carrying a fire extinguisher. It helps control the fire when it starts to spread protecting you from severe injuries and burns.
It saves motorcycles – Dominating fire, in the beginning, will prevent your bike from taking serious burns and damages. A low and moderate-level fire can be easily put off by using fire extinguishers saving your bike from getting completely charred.
It reduces repairing costs – Fire extinguishers help you save costs on motorcycle repairs. Major damages to the engine, battery, and other components can be avoided and reduced to simple repairs rather than replacements which cost a big chunk of money.
Where and how to install a fire extinguisher on a motorcycle
I would personally not recommend anyone install a fire extinguisher on the motorcycle. This is because fire extinguishers are pressurized vessels and the open environment of a motorcycle makes them vulnerable to direct sunlight, heat, cold, and rainwater which makes them risky equipment to carry.
Though some extinguisher canisters come waterproof and are made of tough metal and steel bodies, it doesn't guarantee secureness and safety.
If you want to carry a fire extinguisher on a motorcycle as a precautionary step, place them into motorcycle bags, or any other luggage stuff you always take with you. This will keep the equipment secure and away from outside temperatures.
Nonetheless, if you are looking to install it on a motorcycle make sure to use a mounting bracket for installation. A mounting bracket is a must-have item to fix the fire extinguisher securely.
Most motorcyclists use one of the sides of the rear/pillion seat and above the taillight areas to install a fire extinguisher. These places may not be completely perfect but offer flexibility in riding and easy access to the unit for quick use.
Here is a quick video on how to install a fire extinguisher. It will also help you find an additional place to install a fire extinguisher:
Installation may require you to drill a few holes to attach the bracket. If the default bracket is made of plastic or remains loose after the attachment it is advisable to purchase a dedicated standalone bracket to suit your needs.
Once the bracket is fixed, put the fire extinguisher into it and check the tightness and grip to avoid any slip or fall. That's it!
Conclusion
A fire extinguisher is not a must-have item for a motorcycle however, it is better to be safe than sorry!
The risk of fire is always there especially if you ride frequently and travel long distances in any weather.
Even on a busy road with a huge amount of traffic, there are instances of motorcycles catching fire. If not for your own sake you can help others by using your fire extinguisher.
The list of fire extinguishers in this review post is used, tested, and trusted by thousands of users. Pick the one that is small, handy, powerful, easy to use, and carry. Rest assured, remain safe and alert while riding.
I would highly recommend you carry a fire extinguisher along with your own luggage, shoulder bags, or motorcycle bags rather than installing it. If there are no options to carry, installation is also not a bad idea.
I hope you understood the importance of fire extinguishers, and are now in a better position to choose them.
Did you go through any instances of using a fire extinguisher on a motorcycle? If yes, please share your own experience and feel free to recommend any other type of extinguisher you would want to add to the best-of list.